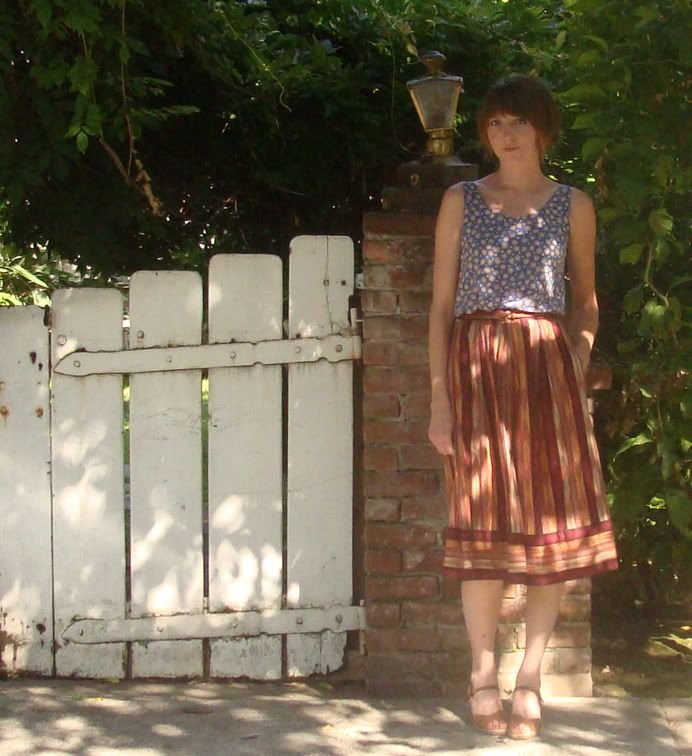 this is what i wore last weekend when i hosted a $5 vintage sale in front of my house during midtown's monthly 'art walk.' the sale went really well, and it was fun sitting out on my front stoop all afternoon chatting with shoppers and passers-by.
i've kind of dubbed this my 'gyspy' skirt - especially since i usually pair it with mis-matching patterns, i believe this skirt belongs dancing about under stars and candlelight at a party like the one in chocolat.
maybe because i've been dreaming of this simple, colorful, fun lifestyle i call 'gypsy,' or more likely because some pretty major things are changing in my life right now, i have begun to hear the call of the road more persistently lately. after graduating college, i traveled around the west coast for six weeks, and then spent the next year flitting about rather insanely. now i'm getting the itch to go exploring by myself again, but, hopefully, with a more sensible head on my shoulders this time.
i've got to plan a little adventure for myself - at least i already know what to pack.
more things i'm looking forward to: crisper photos, less awkward poses, and the appearance of boots in these photos! i should have all three down by fall, which is only a month or two away! (summers here are loooooong.)
top: thrifted
skirt: thrifted
sandals: thrifted
belt: urban outfitters. dang! so close to 100% thrifted!