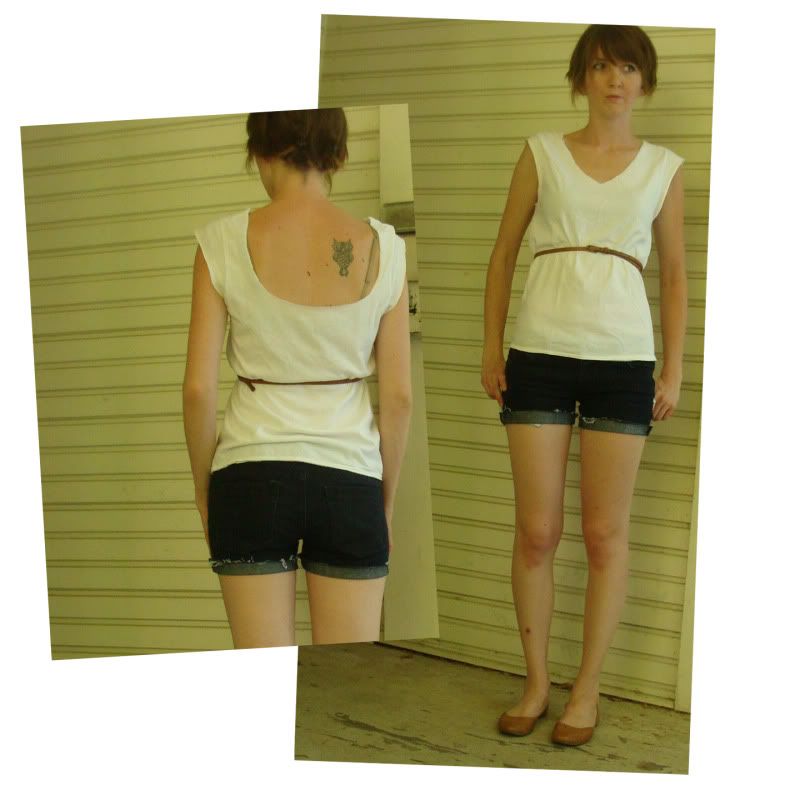 i woke up from my nap yesterday with one hour in which to shower and get dressed for a drinks date in celebration of my friend's 25th birthday. that's normally more than enough time for me (i like to consider myself low-maintenance, at least in that respect) but i couldn't find anything to wear. when that happens, i always start with what i know i want to wear -- in this case, the shorts were the starting point because everything else is dirty -- and then build around it.
i looked frantically through my drawers for a loose, cap sleeve shirt that i could belt before remembering, oh yeah, i don't have one of those. but i did have a hanes v-neck tee shirt and a pair of scissors!
with fifteen minutes til my friend was due to pick me up, i lay the shirt on the floor and cut out a larger v neck, using the previous one as a guide. then i lopped off the sleeves, using the first finished one as a guide for the second for some semblance of evenness. then, since i've decided that detail in the back is one of my signature design favorites, i cut a scoop neck in the back. and i cut off the hem (under the finished seam) to keep up the unfinished look but also keep from looking too homemade.
see more (way better) ways to alter an old white tee
here
.
top: reconstructed white tee
belt: urban outfitters
shorts: formerly f21 jeans turned to cut-offs in a similar nothing-to-wear-gotta-go-now situation
shoes: thrifted