a few months back, one of my girlfriends told me about this amazing vacation her mom takes every year. girlie's mommy and auntie pack up their sewing machines and head off for a resort vacation for a couple weeks to catch up with each other and their sewing projects. it's brilliant! so we booked a week at my grandma's house in tempe, arizona -- the closest we can afford to a resort -- complete with sparkling pool, fridge full of goodies, and a girl's night out with my grandma,
her
girlfriends, and bowls full of beer. yum!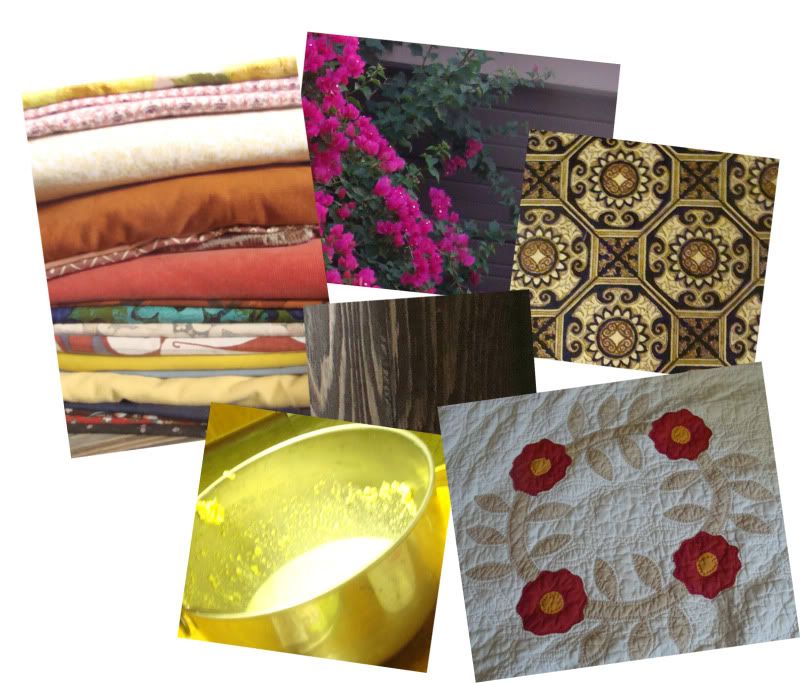 some highlights from the week (clockwise from top left):
-- the gigantic stack of vintage fabric i've been hoarding since we started planning this trip. i also brought a stack of vintage patterns, but only managed to eke out one botched camisole from the seventies. the envelope was missing the pieces for the yoke so i winged it -- and it came out two sizes too big for the bottom. and, yes, i did fail pattern-making in college. i also
hemmed
made wearable two vintage dresses, and totally reconstructed a HUGE yellow mumu that is now one of my favorite sundresses!
-- the beautiful bougainvillea that has been gorgeously framing the garage since way before i was born.
-- possibly my favorite part about my grandma's oh-so-vintage house: the awesome floor tiles in my bedroom.
-- one of many quilts made by the long-gone ladies of my family. they're so old and delicate, it almost feels wrong actually using one on the bed!
-- the ruined cornbread i tried to make for our vegetarian tamale pie, right before it got thrown away for being bread soup instead of bread batter. i've been working on my homemade cornbread recipe at home, but foolishly bought the box stuff instead. there were three different recipes on the box and i think i followed them all. that's bad.
-- the wonderfully retro dark wood paneling that still remains in grandma's living room. she and my grandpa moved into this house in 1960. i love that so much of the decor has remained. there are also wrought-iron globe lamps, avocado green tile in the kitchen, and actual 1960's metal-umbrella-topped picnic tables from a fast food joint out in the backyard.
of course, we had to sample the local flavor in thrift shops.
the first day we went out unprepared, hoping to run into a cute little coffeehouse with free wifi from which to plan our journey. somehow, we went every way but the right way, and couldn't even find ourselves a starbucks! we stopped at a walgreens while i called for backup (my mom) to google for us, but when we tried to head out, my car wouldn't start! we're so lucky we got stuck at the drug store instead of in the middle of the desert -- we had plenty to eat and drink and read while we waited for the tow truck for over an hour. it was actually pretty fun!
the second day, with rhonda the honda up and running again, we checked more than ten thrift stores off of our
prepared
list. below are some of the finds (some of the others are staying with me) and these should be in
the shop
by the weekend.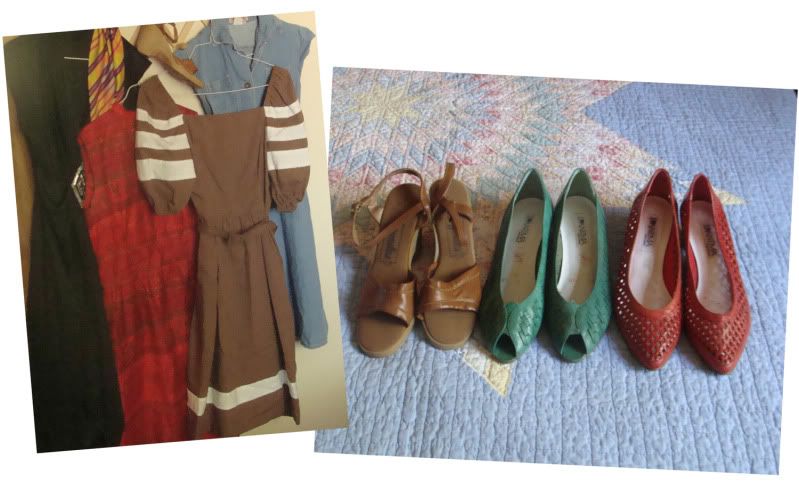 this is the first vacation i've ever taken where i actually missed my job. i had planned on working while we were there, but when it came down to it, i felt like i was ignoring my friend and my grandma too much. i didn't realize before how much time i actually spend on all this -- it's fun, so it doesn't ever feel like work! i think it was wednesday night that i decided to just give it a rest, and it was almost
uncomfortable
not blogging, listing items, or vintage hunting! it's so cool to realize how much i love this.
now it's time to play catch-up!
p.s. make sure you read the post below! the big huge sale ends june 30th at midnight!