some of tomorrow's goodies came from the estate sale i went to on friday. the house belonged to a pack rat who seems to have lived many, many years by herself. most of the rooms had been decorated
completely
in purple - the exact same shade as these awesome t-strap heels i found there. i think it
may
have been her favorite color. she had also turned one whole bedroom into a closet (a woman after my own heart, indeed) filled with racks and racks of crochet-covered hangers holding mostly awful pastel 60s polyester. the clothes were actually pretty cute - girlfriend had bangin' taste up until about 1982 it looks like. i just can't buy you guys all that synthetic stuff. so here's about half the stuff i smuggled out of there - of course, i had to keep some too. the tank top is so adorable - a poly blend knit henley with tiny little whales all over! i would live in those two dresses, but i'm going to let you do it instead.
the other thing you should know about our stylish benefactor: she spilled a lot. these three knits have slight stains on the fronts of them - but the prints make up for it by being so adorable and also distracting the eye from the stain! swell!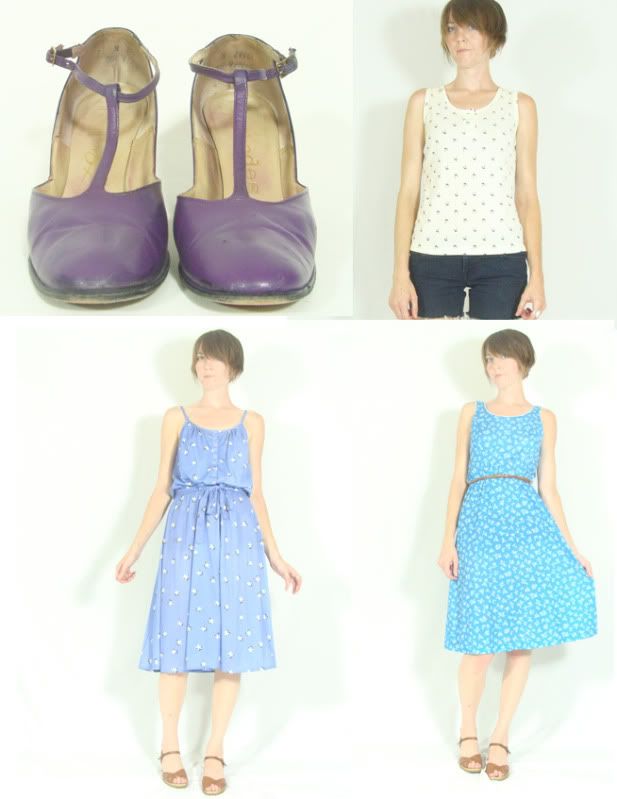 i'm hoping to start listing this stuff in
the shop
tomorrow. next up...the rest of the update!