today's shopping trip was a tad frustrating.
i wonder if it's my lack of inspiration that leads me to walk out of the thrift stores empty-handed, or if it's the lack of goodness in the stores that leaves me feeling uninspired. i think it's the latter, but either way, today was not good for vintage hunting.
i find on days like this that if i buy anything, it's generally for my closet and not for yours. the few clothes i buy are the ones that i'm not sure are unique enough for the shop, or extra weird things that i think might be
too unique
and maybe the shop is not ready for them. i bought four such skirts today -- sidenote: i want to really start doing outfit posts, so hopefully i'll show you these finds i speak of someday, properly styled so you can tell me yay or nay.
i also spend more time looking through the home stuff on these disappointing days, hoping to at least find
something
worth driving all over the place. i adore these new lovelies i scored for my home....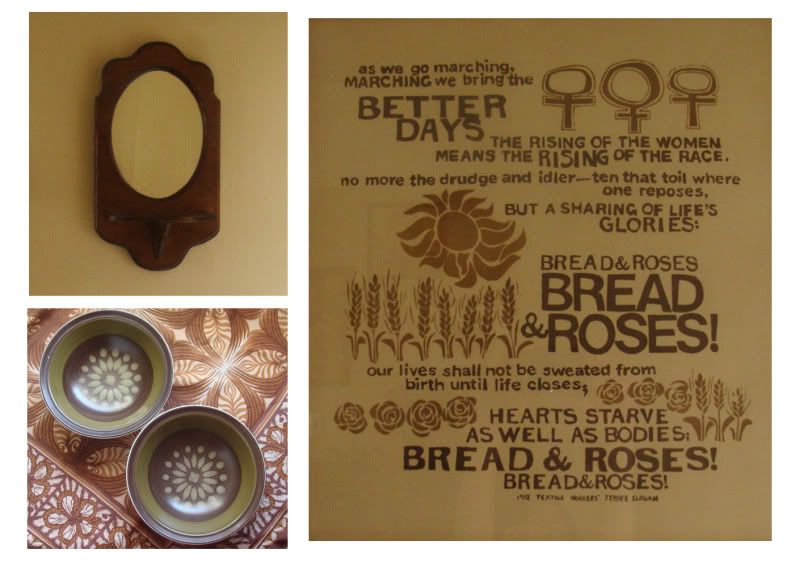 the little mirror thingy is another throwback to my mom's decor when i was a little girl. really, i should just move back home instead of trying to replicate my parents' house. the 'bread and roses' poster is the 1912 textile worker's strike slogan, and i just love the graphics. the bowls are a similar style to, but totally different from, some other ones i have, so i had to buy them. i'm working to build a completely mismatched matching set.
hopefully tomorrow will be much more satisfying in the dress and shoes department. tomorrow should also be a photoshoot day. i still have last week's pile of goodies lying around! and hopefully there will be another post too!